INTEL enlisted [namethemachine] to help put on a very special performance to proceed Brian Krzanich's headlining keynote speech at CES Las Vegas 2016. We teamed up with Yago DeQuay, Nerdmatics, Pixmob, Intel's New Devices Group and Clarity Creative to create this unique experience.
[namethemachine]'s involvement spanned from the technical to the creative. Our team designed the visual aesthetic, as well as programmed and executed the realtime interactive animations. Alongside Nerdmatics and the Intel New Devices Group we developed a rigorous, complex and sophisticated network routing system for parsing data from the various sensors while simultaneously driving music and visuals. [namethemachine] also worked closely with Clarity Creative to specify proper projection and show logistics.
Tasked with specifying the needed computer, audio and video equipment [namethemachine] along with Nerdmatics delivered to Intel a professional inventory of audio and video equipment racks that allowed us to execute this caliber of show.
Peter Sistrom collaborated with Yago DeQuay to come up with an aesthetic that represented Yago and Intel's goals of showcasing the unique interactive nature of the music and dance being composed.  

The visual components and visual show flow were designed to allow Yago and his band to use Intel's wireless Curie devices to perform and receive visual feedback directly in front of them while simultaneously displaying their movements to the audience.  The result was a technical, science-fiction-esque but also playful graphic language projected on an 80 foot wide scrim across the entire stage in front of the musicians and dancers.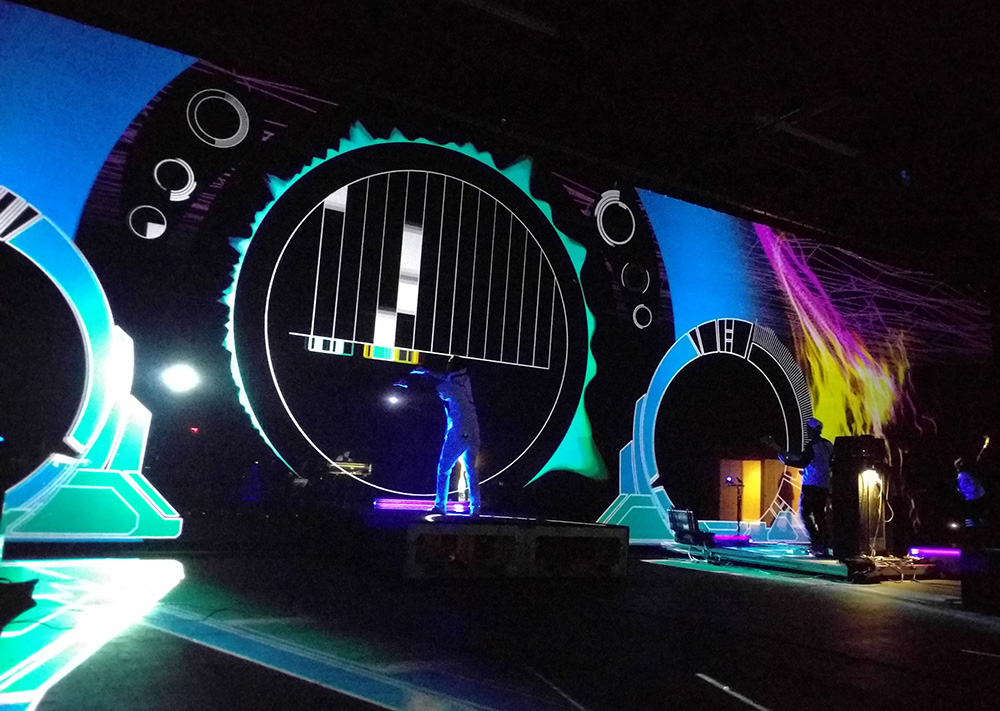 Following the success of the CES performance Intel asked the same team to readapt the performance to a new setting and conference. This time the audience would be in the round looking down at Yago and his band.  [namethemachine] took many of the components and sequencing created for the wide scrim setting and recomposed the piece visually to map out onto the entire floor of the venue, on the projection mapped cylinders and up the high resolution LED walls on either side of the room.